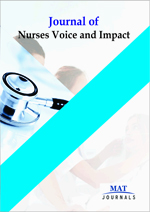 Journal of Nurses Voice and Impact
JNVI is a peer reviewed journal which mainly focuses on to bring out the original and novel research developments in the core field of Nursing, management and applications.
Quality nursing care
Research activity
Nurse as a leader
Highlight the importance of nursing research.
Innovations and improvement in nursing technique
Holistic nursing activities across globe.
Nursing theories and applications.