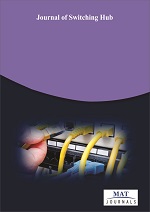 Journal of Switching Hub
Journal of Switching Hub:- Is a print e-journal focused towards the rapid Publication of fundamental research papers on all areas of Switching Networks.
This Journal involves the basic principles of computer networking device that connects devices together on a computer network, by using packet switching to receive, process and forward data to the destination device.
Computer Networking Device
Hardware Addresses
Network Design
Multilayer Switches
Micro Segmentation
Role of Switches in a Network
Layer-Specific Functionality
OSI Model Routers
Simple Network Management Protocol
FIBRE Channel Switch
Fully Switched Network
LAN Switching
Stackable Switch
This Journal involves the comprehensive coverage of all the aspects of Telecommunication Study.